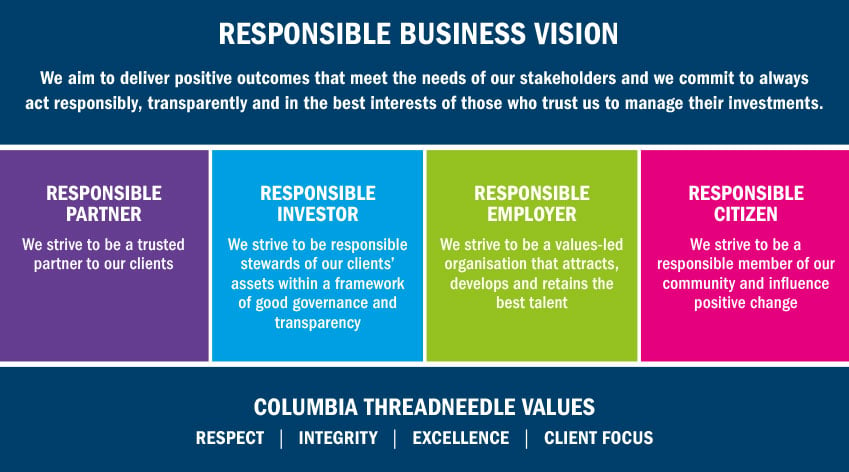 We aim to deliver positive outcomes that meet the needs of our stakeholders and we commit to always act responsibly, transparently and in the best interests of those who trust us to manage their investments.
A leading global asset management group, Columbia Threadneedle Investments is responsible for providing a broad range of actively managed investment strategies and solutions for individuals, pension funds and corporations. We strive to deliver the investment outcomes that our clients expect when they trust us with their money, through an investment approach that is team-based, performance-driven and risk-aware. In terms of corporate responsibility we are equally committed to ensuring a rigorous approach that creates sustainable long-term value.
Our corporate responsibility strategy is underpinned by our values of Client focus, Excellence, Integrity and Respect. We expect to be held accountable to these Values in all we do.
Our EMEA corporate responsibility framework is managed by senior executives from across the business, reporting to the Business Management Committee, which is our key regional senior management and decision-making forum. Within this framework, objectives and initiatives are delivered by teams across the business. We are a member of
Business in the Community
, and we work together to ensure our approach includes continual improvement and reflects best practice.

Read on to find out about our corporate social responsibility activities and progress for the 2020-2021 period that has dealt extraordinary challenges. The onset of the Covid-19 pandemic, occurring alongside dramatic social and weather events, challenged health and other community services and highlighted societal inequities.
Columbia Threadneedle responded to these challenges and adapted as a business within the core roles we play as Responsible Partner, Responsible Investor, Responsible Employer and Responsible Citizen. Read on to find out how we served our clients, managed their assets in a responsible manner, supported and developed our employees and contributed to our community.
Our corporate responsibility vision emphasises the core roles we play:
We strive to be a trusted partner to our clients, to innovate and to create positive impact
We strive to be responsible stewards of our clients' assets within a framework of good governance and transparency.
We strive to be a values-led organisation that attracts, develops and retains the best talent.
We strive to be a responsible member of our community and influence positive change.
Key Performance Indicators
View our table of Key Performance Indicators for Responsible Business in EMEA.